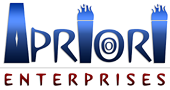 Software Solutions &
Application Development
Below is a list of products developed by Apriori Enterprises. All of them can be downloaded for free from this page. Source code can be made available upon request (send requests to apriori@bluegosling.com).
The products are listed with the most modern programs at the top. We started developing programs in the early 90's, when DOS was the typical environment for home PCs. The oldest program below was developed for DOS (and, luckily, runs quite nicely on modern operating systems thanks to DOSBox). The other programs were developed for Windows -- all before the dawn of Windows Vista. As such, some of them have quirks (if they run at all) when using a modern OS like Windows Vista or Windows 7.
Future work we do will likely be web-based and thus a little more widely compatible. They might even run on your mobile device. Wouldn't that be a nice step into the modern era of computing? (We've been checking out Google's App Engine for Java as it looks to be a cool platform for developing software.)
Homebrew Helper

Tivo-to-Mpeg Converter

Colors for Windows

MIDI Compozer